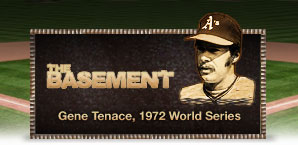 Baseball's postseason history is chock-full of legendary performances, mysterious happenings, amazing plays and epic failures. Now, for the first time, fans can vote on the players, coaches, teams and moments that have stood out the most over countless Octobers as part of ESPN.com's Hall of Fall.
In our closest vote yet, Gene Tenace just barely beat out Babe Adams for the honor of being elected to the Hall of Fall's basement. Despite being handicapped by having played so long ago, Adams fell a mere four votes short of toppling Tenace. Francisco Cabrera also made a very strong showing, taking most of the South as memories of his clutch hitting seemingly still resonate around Atlanta.
Note: The ESPN research team of Mark Simon, Mike Lynch, Dan Braunstein, Greg Dohmann, Gregg Found, Jeremy Lundblad, Justin Havens, David Schoenfield and Rob Neyer contributed to this project.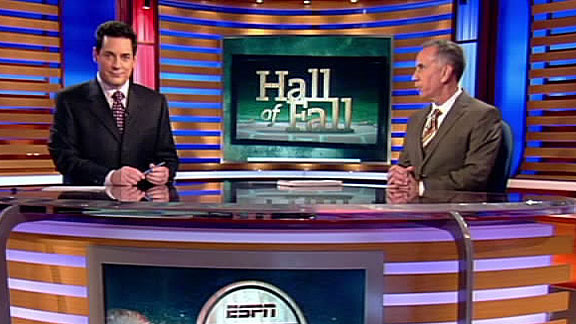 Babe Adams: Adams was a 27-year-old rookie hurler on a great Pittsburgh team (110-42) and while he posted strong numbers (12-3, 1.11 ERA), he had started only 11 times. Manager Fred Clarke surprised everyone by tabbing the unheralded rookie to start Game 1 against Ty Cobb's Tigers. He won 4-1. He won Game 5, 8-4. Clark went with Adams again in Game 7. He pitched an 8-0 shutout and would go on to a long career with Pittsburgh, winning 194 games.



Dusty Rhodes: A backup OF for the Giants, Rhodes never reached 300 plate appearances in a single season in his career, but starred off the bench in the '54 World Series as the Giants swept Cleveland. His three-run pinch HR in the bottom of the 10th won Game 1, he had a pinch-hit RBI single in Game 2 and stayed in the game and later homered as New York won 3-1, and he added a two-run pinch-hit single in Game 3. Series totals: Six at-bats, two HR, seven RBI.

Gene Tenace (WINNER): Tenace played five positions for the A's in 1972 but didn't hit much at any of them: .225 with five home runs. But in the World Series against the Reds he won MVP honors after hitting .348 with four homers and nine RBI -- including two in Oakland's 3-2 victory in Game 7.

Brian Doyle: With starting second baseman Willie Randolph injured for the 1978 World Series, the Yankees turned to little-used rookie Brian Doyle to fill his place. Doyle, who hit just .192 in 51 regular-season at-bats, went 7-for-16 (.438) in the World Series against the Dodgers, as the Yankees won in 6 games.

Francisco Cabrera: With the Braves trailing 2-1 in the ninth inning of Game 7 of the 1992 NLCS, Bobby Cox sent Cabrera up to the plate to pinch-hit for pitcher Jeff Reardon with two outs, the bases loaded and Pittsburgh leading 2-1. Despite having just 10 at-bats all season, Cabrera delivered a dramatic two-run game-winning single, Sid Bream sliding in just ahead of the throw from Barry Bonds and sending the Braves to their second consecutive World Series.