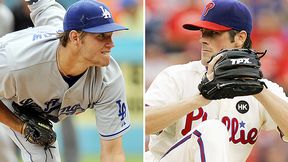 Is Clayton Kershaw the "Pushing Daisies" of starting pitchers in baseball's playoffs? Critics rave about the guy, breaking out Sandy Koufax comparisons, but how many people in the wider world actually watched an episode of Kershaw's season?
The 21-year-old lefty, who was born seven months before Kirk Gibson had his signature moment against the A's in the World Series, gets the ball in Game 1 against the Phillies. When the playoffs started, SportsNation ranked Kershaw behind all three Phillies who will start the first three games of this series -- Cole Hamels, Pedro Martinez and Cliff Lee. And on the eve of the NLCS, 71 percent would still rather go with Hamels.
Jason (LA)
Jayson, which lefty do you think has the brighter future, Clayton Kershaw or David Price? Kershaw does not get as much pub as Price but is dominating with just 2 pitches, thoughts?
Jayson Stark

I think I'd still take Price. But right now, Kershaw is the more advanced pitcher. Maybe the NL/AL issue skews this discussion. But Kershaw has been absolutely unhittable in about 10 starts this year. And Price still has a lot to figure out about changing speeds and locating his fastball before he becomes the big winner everyone still expects him to be. Full transcript.
Mike (LA)
Tell me who you think the Dodgers might target this winter to throw in the mix with Kershaw, Billingsley, Mcdonald, Kuroda? We could use an ace? Lackey via free agency or maybe a trade?
Keith Law

If Kershaw isn't an ace, who is? He'll be a top five starter in the NL next year. Full transcript.