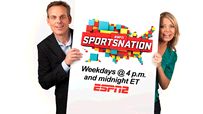 Michelle Beadle and Colin Cowherd will be winning every game on the midway during "SportsNation" TV.
Argue the hot topics of the day and vote on the biggest stories from the world of sports. The show airs on ESPN2 at 5 p.m. and midnight ET.
Note: Broadcast voting results as of this afternoon (ET).

How should Cowboys fans feel about Tony Romo's golf game?
Golf Digest has listed Tony Romo as the top athlete golfer. Has he spent too much time honing non-football skills?
Which quarterback would you rather have?
Jay Cutler has thrown for 8 touchdowns, 901 yards and 5 interceptions. Matt Ryan has 7 touchdowns, 977 yards and 2 interceptions.
Which team will win Saturday's game at Notre Dame?
A Notre Dame win could vault the Irish to a BCS bid and solidify Charlie Weis' job. A USC win could set the Trojans up for the BCS title game.
Which is the bigger story surrounding the start of Angels-Yankees?
Has the cold, windy, rainy weather in the Northeast upstaged the games in the American League Championship series?
What is "SportsNation" TV, and how do you make your voice heard? Read about the new ESPN show that features fan opinions with calls, tweets, polls, rankers and more.