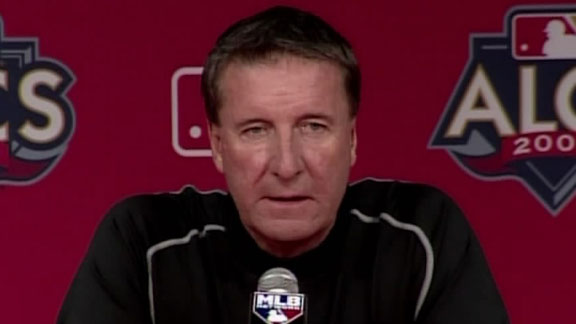 Umpires of all stripes have difficult and demanding jobs, requiring a keen eye, nerves of steel, and the ability to withstand the focused and petty hate of thousands upon thousands of strangers. That last quality has come in handy for many MLB umpires in this increasingly strange postseason.
Last night's ALCS Game 4 provided still more lowlights that baseball's umpires would just as soon forget. First, Nick Swisher was called safe on a pick-off play in which the tag was applied before he got back safely. Next, Swisher was called out for leaving third base early on a tag-up play, a call which the replays did not support. Finally, an odd situation at third base in which two Yankee runners were tagged while off the base resulted in only one out.
As early as a week ago, fans were already claiming that umpires were having a worse postseason than closers; a bold statement considering the sheer number of blown saves thus far. This recent spate of errors likely won't do much to change that perception, although it's interesting to note that before the playoffs started, MLB umpires were ranked second in officiating quality behind NFL referees, who won by a large margin. Does the use of replay in the NFL have anything to do with it? All we know is that SportsNation was in favor of expanding instant replay in baseball as early as last October.