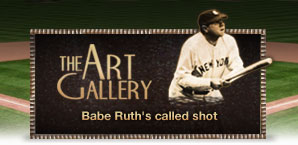 Baseball's postseason history is chock-full of legendary performances, mysterious happenings, amazing plays and epic failures. Now, for the first time, fans can vote on the players, coaches, teams and moments that have stood out the most over countless Octobers as part of ESPN.com's Hall of Fall.
Despite its distance from the present day, Babe Ruth's called shot stuck in SportsNation's collective mind as the most iconic image in World Series history. Willie Mays' amazing catch in the 1954 World Series came in second, and Kirk Gibson pumping his fist after hitting a game-winning home run in 1988 was third.
Note: The ESPN research team of Mark Simon, Mike Lynch, Dan Braunstein, Greg Dohmann, Gregg Found, Jeremy Lundblad, Justin Havens, David Schoenfield and Rob Neyer contributed to this project.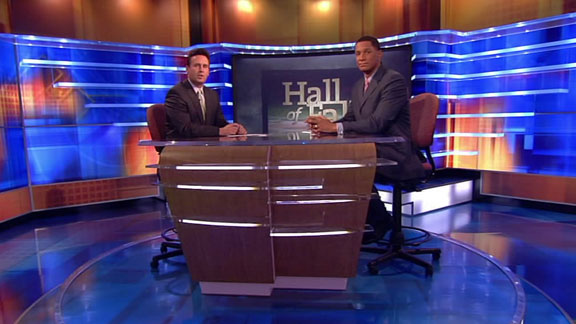 Babe Ruth's called shot (1932 World Series, Game 3) [WINNER]: Did Ruth point to the center-field bleachers at Wrigley Field and call his home run? Was he merely pointing to the bench jockeys in the Cubs' dugout? Was he gesturing toward Cubs' pitcher Charlie Root? Does it matter?



Willie Mays' catch (1954 World Series, Game 1): With runners on first and second in a tie game in the eighth, Cleveland's Vic Wertz blasted a shot deep into the spacious Polo Grounds outfield. Mays sprinted toward the outfield wall en route to making his iconic over-the-shoulder catch. He saved two runs. The Giants won in extra innings and then swept the series.



Bill Mazeroski waving his helmet (1960 World Series, Game 7): Game 7. Tied 9-9. Bottom of the ninth. Moments don't come any bigger. And Mazeroski came through with a solo shot to lead off the frame. It was the first series-ending walk-off home run in big league history. It remains the only World Series Game 7 walk-off home run.



Carlton Fisk waving the ball fair (1975 World Series, Game 6): The score was 6-6 as Fisk led off the bottom of the 12th. If the Red Sox lost, the Reds would win the series. A Boston win would force a seventh and deciding game. Fisk's shot down the left-field line off Pat Darcy will be remembered for Fisk's animated efforts to keep the ball fair.
Kirk Gibson's home run (1988 World Series, Game 1): Gibson proved his value in his lone at-bat in the 1988 World Series. Hobbled by a knee injury, Gibson pinch-hit for Alejandro Pena with one runner on and two outs in the bottom of the ninth. On the hill for the A's was dominant closer Dennis Eckersley. As Jack Buck proclaimed, "I don't believe what I just saw."