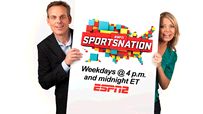 Michelle Beadle and Colin Cowherd will be waving their pennants on "SportsNation" TV.
Argue the hot topics of the day and vote on the biggest stories from the world of sports. The show airs on ESPN2 at 4 p.m. and midnight ET.
Note: Broadcast voting results as of this afternoon (ET).
If Terrelle Pryor could choose again, where would you tell him to go?
Ohio State's quarterback has been in the news all week. Would he have been better off going to Michigan out of high school?

What do you think of NBA players fighting in the preseason?
The Celtics and Cavs, warming up for their battle in the East this season, brawled in their final preseason game.
What do you think of Richard Seymour's Raiders playoffs prediction?
Oakland is 2-4 but only one game out of the wild-card chase. Despite the coach and quarterback turmoil, Seymour is confident in his teammates.
What do you think of a showy two-point conversion in a blowout?
QB Will Briscoe completed a behind-the-back pass for a two-point conversion against Zachary in a 58-0 romp in Louisiana high school football.
What is "SportsNation" TV, and how do you make your voice heard? Read about the new ESPN show that features fan opinions with calls, tweets, polls, rankers and more.