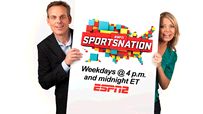 Michelle Beadle and Colin Cowherd will be blocking kicks all day on "SportsNation" TV.
Argue the hot topics of the day and vote on the biggest stories from the world of sports. The show airs on ESPN2 at 4 p.m. and midnight ET.
Note: Broadcast voting results as of this afternoon (ET).
Are you rooting for or against Alex Rodriguez?
A-Rod has finally broken out in the postseason and is saying all the right things. Of course, he still plays for the Yankees.

What should the NFL do to better protect officials?
Umpires could be outfitted with helmets or repositioned in future seasons to prevent injuries from collisions between players and officials.

Which was more impressive?
Was Reggie Bush leaping into the end zone or Adrian Peterson crushing William Gay a more spectacular play?

What do you think of Mark McGwire becoming the Cardinals' hitting coach?
Is it a big deal that the slugger has never addressed questions about PEDs, or is it time to stop talking about the past and look to the future?
What is "SportsNation" TV, and how do you make your voice heard? Read about the new ESPN show that features fan opinions with calls, tweets, polls, rankers and more.