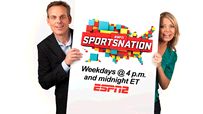 Michelle Beadle and Colin Cowherd have no doubts about the "SportsNation" TV bullpen.
Argue the hot topics of the day and vote on the biggest stories from the world of sports. The show airs on ESPN2 at 4 p.m. and midnight ET.
Note: Broadcast voting results as of this afternoon (ET).
CC Sabathia pitched well, but not well enough to preserve home-field advantage. Now it is up to A.J. Burnett against Pedro Martinez.

There's no shame in losing to the Celtics, but the Raptors? And shouldn't Shaq learn the plays before becoming a sheriff's deputy?

Young is 0-of-5 passing with one interception in two brief appearances this season. Of course, the team is 0-6 with Kerry Collins starting.
What is "SportsNation" TV, and how do you make your voice heard? Read about the new ESPN show that features fan opinions with calls, tweets, polls, rankers and more.