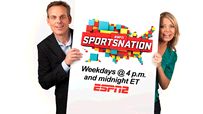 Michelle Beadle and Colin Cowherd considered renaming "SportsNation" TV the "Fall Classic."
Argue the hot topics of the day and vote on the biggest stories from the world of sports. The show airs on ESPN2 at 4 p.m. and midnight ET.
Note: Broadcast voting results are as of this afternoon (ET).
Brett Favre threw for 244 yards and four touchdowns. Percy Harvin had five returns for 175 yards to go with 84 yards receiving.

After a slow start in the World Series, A-Rod has batted in three runs in the past two games and the Yankees lead the Series 3-1.

Was his punishment for apparently attempting to eye-gouge a Georgia player too lenient, too harsh or fair?
What is "SportsNation" TV, and how do you make your voice heard? Read about the new ESPN show that features fan opinions with calls, tweets, polls, rankers and more.