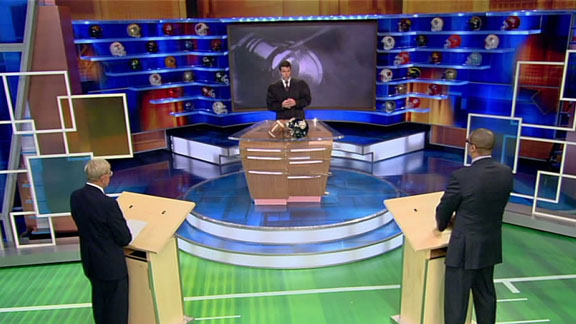 First, the good news for Charlie Weis. If you think about it, Weis' Notre Dame team wasn't upset at home by Navy on Saturday. Sure, the Midshipmen entered the game with one more loss than the ranked Fighting Irish, but they played Ohio State and Pitt tough on the road, which is more than you can say for the team from South Bend's résumé.
Now, the bad news. Notre Dame fans aren't used to Navy being the better team. At least not since Roger Staubach was under center.
Notre Dame isn't alone in finding itself on the wrong side of a top 25 that doesn't include familiar names like Oklahoma, Nebraska, Michigan and Tennessee. But there's a reason voters before the season said Weis was under more pressure than Rich Rodriguez and Lane Kiffin combined. Is it time for Weis to go, and is this job an automatic career killer? SportsNation blogger C.UngureitJr has had enough.
"[T]here's definitely something wrong with the coaching at Notre Dame. I'm going to stand by my initial thoughts that Charlie is a good coach, just not a good head coach. He seems to have an inability to orchestrate the team as a whole. Despite the coaching, or lack thereof, there's also an issue with execution. As another SN member (SouperIrish) put it, "Harrison Smith couldn't tackle me in a phone booth." Now, while I don't like to single out players, the tackling of ND's defense has been beyond atrocious and needs to be addressed." Full post.
"

ESPN update. Zorn turns down Notre Dame.

"

-- eigerhund
"

what a terrible, terrible loss..... just felt like we were waiting the entire game for something to happen.... didn't throw any deep balls in the first half... defense was so predictable.... instead of trying to fire up the players, the coaches just complain to the refs.... there are no cakewalks in college football and instead of focusing on the week's opponent, they looked ahead to Pitt.... what a let down.... on the bright side, rumors are swirling about the possiblity of Tony Dungy considering the ND job that is now open... he has a history with the AD, Jack Swarbrick and also with Brian Polian and his father obviously.... just a rumor....

"

-- SouthBendIrish23