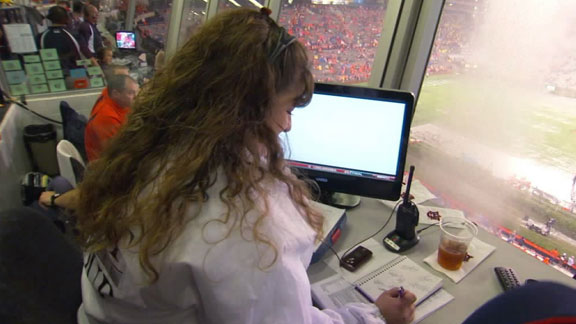 Fans are all too familiar with boorish behavior in the stands.
When we asked for their worst game-day experiences, more than 150 members of SportsNation described situations involving alcohol, violence, profanity, spilled or thrown objects and aggressive heckling, along with a few mentions of theft and racist taunts.
"Some drunken jerk is walking by, sees the kid's [Broncos] jersey and starts heckling him," wrote 60Melissa about a Colts game. "The kid's just smiling. You could tell he thought the guy was just kidding.
"The drunken guy walks away ... bum-rushes back outta nowhere, throws his beer all over this child and pushes him to the ground."
NFL venues caused the most complaints, with multiple fans saying they'd never attend another pro football game, followed by college football, baseball and hockey.
There remains a minority willing to dispense their own justice, but in most extreme cases (with some exceptions for visiting fans and those who strayed into student sections), commenters reported that stadium security dealt with the problems.
"Fighting is the only thing that should be absolutely banned at all sporting events," wrote pookdog64. "Who doesn't let out a curse word when something bad happens to their favorite team, though? Seriously, some guy next to me in the bleachers at Fenway got reprimanded for yelling out the naughty version of poop after the Sox gave up a home run."
Tune in to "Outside the Lines" on Nov. 15 at 9 a.m. ET for a closer look at the issue.