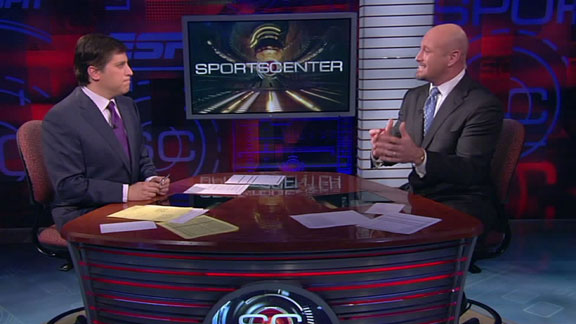 If you're the type who sees the glass as half full, you might note that Joe Flacco at least completed half his passes to someone last night. If you're a Ravens fan, well, we imagine the glass was completely empty before Flacco's 15 completions and three interceptions.
With four weeks to play in the NFL regular season, Flacco and the Ravens are keeping pace with the rival Steelers in the AFC playoff race. And that's precisely the problem. At least SportsNation voters seem to have a handle on the Ravens, correctly predicting each of the team's last four games. The same can't be said for the Steelers.
Meanwhile, over in the NFC, the Packers are 8-4 and seemingly in good shape to seize a wild-card berth. But just how good is Aaron Rodgers? SportsNation says better than Donovan McNabb, Eli Manning or Tony Romo (if not as good as Kurt Warner), but Football Outsiders' Bill Barnwell had a different take in the Monday Night Football chat.
Zack (Beckley, Wv)
Favre, Brees, and Manning have really good stats. But has anyone looked at Aaron Rodgers Stats. They are just as good he has less int's then Manning and Brees. He also has a better QB rating
Football Outsiders' Bill Barnwell
That's a pretty disingenuous analysis. QB rating doesn't include sacks, which Rodgers has taken in boatloads (and separates him from Manning, Brees, and Favre). His completion percentage is several points worse, and he's played an extremely easy schedule. By DVOA, our statistical metric, he ranks as the 15th-best quarterback in the league. And that's a better stat than QB rating. Full transcript
Marty (Atlanta)
What was happened to the Steelers this season, 6-2 to now 6-6? We saw the same exact thing 3 years ago after they won a Super Bowl they had a miserable season following, can you really them one of the great teams of the decade when they have really been inconsistant season to season?
"First Take" analyst Drew Bennett

It's very rare that a defending Super Bowl champion has trouble with identity at this point in the season. To have your coach come out and say you're going to unleash hell in December and then lose to the Raiders is not indicative of a team following their coach. Couple that with Hines Ward's shots at Ben Roethlisberger and you have an identity problem. Full transcript