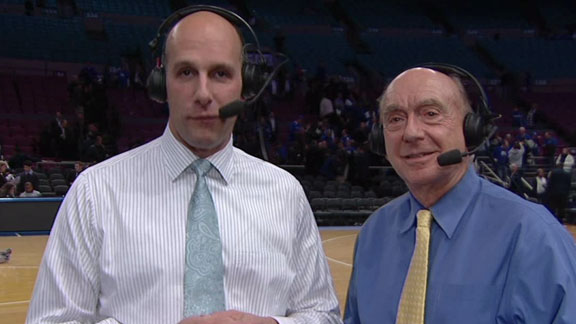 First came Brandon Jennings, the point guard Knicks fans watched their team pass on in the draft in favor of Jordan Hill. Next came John Wall, who put on a better show in a Kentucky uniform Wednesday night at MSG than anything Chris Duhon will manage this season. Playing with a young point guard like Wall sure seems like the kind of thing that might catch the eye of LeBron James. Too bad the Knicks already traded their 2010 first-round pick.
Wall scored a season-high 25 points to lead the Wildcats to an 64-61 comeback win against Connecticut. And maybe you don't get one without the other, but a majority of SportsNation contends the freshman sensation has been a bigger addition for Kentucky than John Calipari. But has Wall's college debut been even better than Jennings' pro debut?
As for Knicks fans, hey, Brooklyn won't be that far away.
Josh (Dallas, TX)
If the Nets get the 1st pick in the draft this year... do they take Wall despite having Harris?
David Thorpe
Without doubt. Take the value, and then adjust accordingly. Think Rose to Bulls even though they had Hinrich. Full transcript
Bobby (Seattle)
Is John Wall your unanimous #1 at the moment, and do you see anyone else taking over this spot between now and next summer's draft?
Chad Ford
Yes. He's been atop our board since it debuted on June 28th. I haven't talked to one scout or GM who has a player ranked above him. Though ... thought this was funny. Talked to one GM last week who told me, "Watched that John Wall kid. He's really good. You should probably have him in the lottery." Thanks for the heads up. Glad he's been reading our stuff. Full transcript