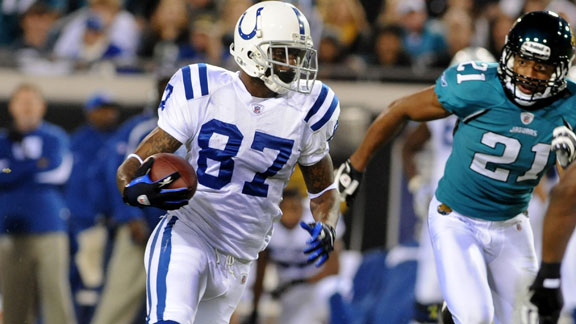 This is getting to be a case of life imitating art. Or at least life imitating Electronic Arts.
The Colts are everyone's favorite team in Madden, but Thursday's 35-31 win against the Jaguars in Jacksonville would have made a computer blush. Leading by three late in the fourth quarter, the Jaguars had done just about everything right (well, other than Reggie Nelson's aversion to tackling). Maurice Jones-Drew piled up yards, David Garrard stood in and made big pass after big pass. So what happens? Peyton Manning lofts a long pass and Reggie Wayne does the rest of the work on a 65-yard touchdown. Go ahead and hit the reset button.
But with seven fourth-quarter comebacks this season, are the Colts too great to put away or just a very good team riding a remarkable run of good fortune?
Wedo (Arizona)
KC who would be your MVP this year and why?
KC Joyner

Peyton. As great a job as Brees has done, he's been working in that offense and with those receivers for a while. Peyton's been doing it with no running game and with guys like Pierre Garcon and Austin Collie (with no insult intended towards those two - they've been fantasy football picks of mine for a while now). Full transcript | Who are your MVP candidates?