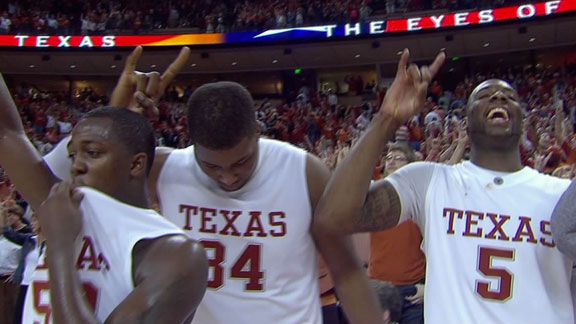 Texas and Kansas don't meet on the basketball court until early February, but in the spirit of the upcoming BCS championship game in football (or "that game the day after the GMAC Bowl," as Nick Saban prefers we refer to it), the second-ranked Longhorns are doing their best end-around on poll voters.
Just days after knocking off No. 10 North Carolina at Cowboys Stadium, Texas knocked off No. 9 Michigan State to complete a sweep of last season's finalists. No. 1 Kansas got a win of its own last night, knocking off California, but with a pair of wins by double digits against top-10 teams. is Texas making a case to take over the top spot?
A week after last season's title game. voters ranked Texas No. 7 in looking ahead to this season. By June, Rick Barnes' team was up to No. 5 in SportsNation.
"

Texas is best team in the country. I feel that last year they just didnt produce like most experts expected. I watched them destroy UNC and Pittman looks like a completly differ player. Damion James is playing up to potential unlike last year. I have a feeling Big 12 gets two teams in the Final 4 with Kansas and Texas.

"

-- BleedND82
"

Man, that was a good game. The final score is misleading, it was close all game. I kinda liked how Texas just dribbled the ball out with 40 seconds left and took the shot clock violation on purpose, shows good karma. How about Balbay gettin' 2 dunks in the last 4 minutes, ha. T to the Izzo is a good coach, Mich St was scarin' me in the 1st half. Had a lot of athletic layups going in... Good to be a Texas fan this year.

"

-- baugrl00