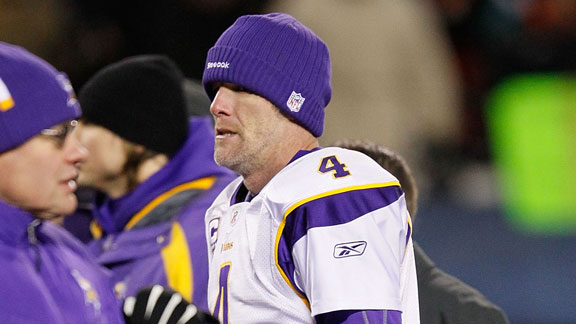 Give this to Brett Favre: The guy does know how to do drama.
A week after Vikings fans were left watching Favre and Brad Childress engage in the most uncomfortable interplay since Brad Pitt and Kevin Spacey at the end of "Seven," Favre lined up under center with 22 seconds left against the Bears in Chicago, the ball on the 6-yard line and the Vikings trailing by 7 points. Touchdown. Crisis averted in the Twin Cities.
Well, that's how it should have worked out. But be it Scrabble or Monday Night Football, Favre proved no match for Aromashodu. An Adrian Peterson fumble set up a game-winning catch for the Bears by Devin Aromashodu in the subsequent overtime.
The Colts, Saints and Vikings have occupied three of the top four spots in SportsNation's Power Rankings every week since Oct. 5, but look at how the fortunes of the other NFC contenders have steadily ticked upward.
Ted Stringer (San Diego, CA)
Best teams in the AFC/NFC? Bolts/Birds???
Football Outsiders' Vince Verhei
Subjectively, I'd probably say New England and Philadelphia. I love San Diego, but without Jamal Williams their defense has fallen apart. It's just hard to tell because Rivers and Co. are so awesome.The NFC is more wide-open, but I do think I'd put Minnesota last among the playoff teams at this point. Full transcript
J.B. (Dunmore, PA)
Do you see what has happened with the Saints these past two weeks as just a bump or a bad trend? It's not like they were dominant in their last few wins either.
Scouts Inc.'s Gary Horton
I think there is cause for concern. Their defense is not creating as many big plays and turnovers as they have in the past. Drew Brees has not been as dominating. The running game has been up and down. And much like Indy, these guys have had some close games. It's not like they're routing people every week. I think the big problem right now for the Saints is that nobody is afraid of coming to the Superdome now, which wasn't the case three weeks ago. The aura of you can't beat us in our house is in real jeopardy. There's no way that Tampa Bay should have come back from a 17-0 deficit in New Orleans. Full transcript