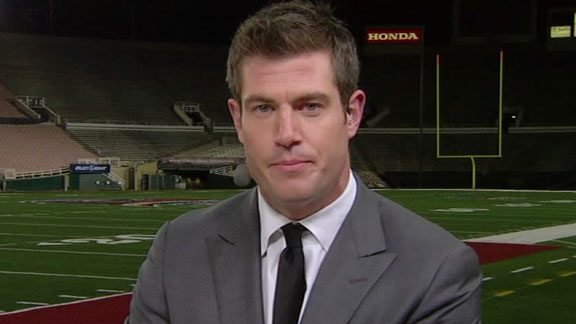 So as it turns out, it's not easy to top a game that ends with a marriage proposal and a Statue of Liberty play for the win. Boise State's second BCS victory, this time a 17-10 defensive effort against TCU in the Fiesta Bowl, wasn't quite as epic as the win against Oklahoma three years ago. But it was a BCS win, something Michigan and Notre Dame, among other programs, would dearly love to taste even once these days.
Most of SportsNation feels the win (which few voters predicted) is more a case of Boise State being better than we thought than TCU being worse than we thought. Nevertheless, under the current system, it's almost unanimous that the Broncos will never win a national championship. At least Boise State has a chance to face Alabama and Texas in SportsNation's arena (we have cheaper seats than the Rose Bowl, too).
Vote: Boise State vs. Alabama | Boise State vs. Texas
mike (Salt Lake City)
Will the MWC expand this summer and invite Boise State?
Graham Watson

Not likely. And Gary Patterson really put it best ... Does adding Boise State help or hurt the conference because it give the conference one more potential loss that could knock them all out of BCS [bowl] consideration. Full transcript