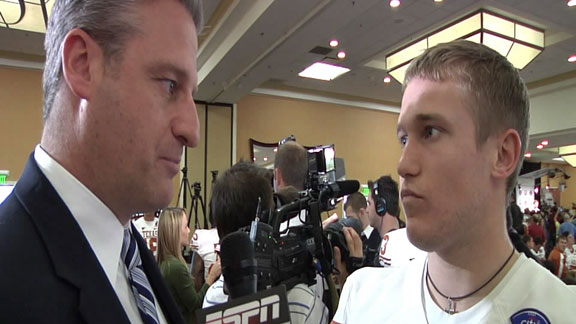 Underdog in a BCS National Championship Game played in the Rose Bowl against a team known for its reddish hues? Yeah, Texas has been there and done that. Alabama has settled in as a decided favorite in Thursday's title game -- SportsNation agrees with pundits and oddsmakers on this one -- but the Longhorns aren't exactly Cinderella. As seen below, this will mark the first time all season voters don't pick them to win, and they spent the entire fall ranked in SportsNation's top three. (Coming Thursday: SN's take on Alabama).
Fans have been chatting, blogging and talking about the game for weeks, including the occasional bit of trash talk hidden under the guise of a scouting report.
"My prediction for the BCS National Championship game is Alabama by 12. Greg McElroy is a new man. He picked apart one of the nation's top defenses and I think he has this quarterbacking thing figured out. Colt McCoy on the other hand doesn't know what to do. If he stays as a scrambin' man, he's going to meet a new set of obstacles he's never faced before. I look for Texas to pass deep, rather than their usual short game. Barron and Jackson will have a lockdown on Shipley." -- Read RollFreakinTide37's full post.
David (Austin, TX)
Tim, with the development of Texas' two-tailback package of Tre Newton and Cody Johnson, is the Longhorns' biggest question still the running game or do you see other weaknesses that perhaps Mack Brown and co. should be focusing more heavily on before the BCS title game?
Big 12 blogger Tim Griffin

David: After the Big 12 title game, I think the biggest question for Texas remains its pass protection. There is no way the Longhorns can afford to allow nine sacks against Alabama and win. They must protect Colt McCoy better if they have any hopes of winning. Full transcript | Big 12 blog
Michael (Huntsville)
Given both Alabama and Texas have great defenses. Who's defense has the edge, and is better suited to play the opposing offense?
Mark Schlabach

I think both defenses are terrific. I think Bama's defense might have the edge because Texas' offense is more one-dimensional than Bama's offense. Bama is very, very balanced -- as long as McElroy plays well. Full transcript
"

if people go off what they've seen and how they match up on paper, then it's not hard to predict a 'Bama win. Then again, NOBODY (including me) thought NU's offense would show up out of nowhere in their bowl game and look what happened. So UT could very well win this obviously. But right now, it aint looking good. Colt-to-Shipley isn't automatic when UT is playing against a tough defense.

"

-- john1romano