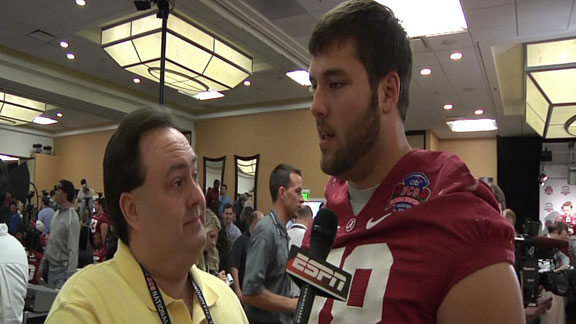 A strong favorite to win the BCS National Championship Game, Alabama won't take the field at the Rose Bowl wearing glass slippers. But as much as Texas is playing the underdog card this week, it's the Crimson Tide who came from the farthest back in the pack to get here. When the season opened, SportsNation voters ranked Nick Saban's team fifth behind Florida, Texas, USC and Oklahoma. Out of nearly 25,000 ballots submitted, only 550 people ranked Alabama No. 1, leaving it closer to Notre Dame (293) than Texas (2,892).
Of course, Alabama is the favorite now, which makes them an easy target for fans not eager to embrace Goliath. Not that Auburn fans need much of a push to blast the Tide.
"Was there football before Alabama? To hear some say, no. In the deep dark recesses of a little town, football was invented, and that town was Tuscaloosa. Don't kid yourself that there are other teams, for there are none mightier than the Crimson Tide. But lest we forget how the program stumbled after the passing of it's great leader, the Bear. For it was only Bear Bryant and claims to 12 National Championships that put Tuscaloosa on the map. And for those of us who claim allegiances to other schools, we scorn the Tide. We proudly mock their arrogance and justify our belief in the theory that what goes up must come down." -- Read AUTIGER677's full post.
Ed (San Diego)
Who do you like [Thursday]? Im thinkin Bama 24-10
Mel Kiper

I like Alabama. I thought all year that they were a team that had a chance, provided the OL and McElroy did their jobs. At the beginning of the year, it was all Jones in the passing game. Now they have others contributing. You look at the job that McElroy has done, Ingram and the two other backs, including Upchurch, who will play in the NFL. McClain is their best defensive player at LB, so you hope he's 100% for the game. The big key for the game is Texas' OL. They need to play 1,000 percent better. Secondly, the return game is going to be critical for both teams. Jordan Shipley and Arenas. Those two guys have a chance to really effect field position. Full transcript
Tim (Huntsville, AL)
As a 92 Bama Grad I see a lot of similarities between the 92 defense and this year?s defense...what do you think?
SEC blogger Chris Low

The main similarity is that they both are/were outstanding. I can still see Copeland and Curry coming off the edge in that Sugar Bowl. That 1992 defense is considered one of the best in school history. If Alabama wins this game and shuts down Texas, I'd think this defense would have to be right up there. Full transcript | SEC blog
"

Everyone is thinking this will be the greatest championship game in a while.. what if it's not? What if bama destroy's texas by halftime? I thought the SEC was suppose to be the greatest conference championship game ever.. bama dominated that game from the first play.. it will probabally be close but Im just saying Bama has a better chance than texas on blowing this game out of the water..

"

-- Derek from Alabama