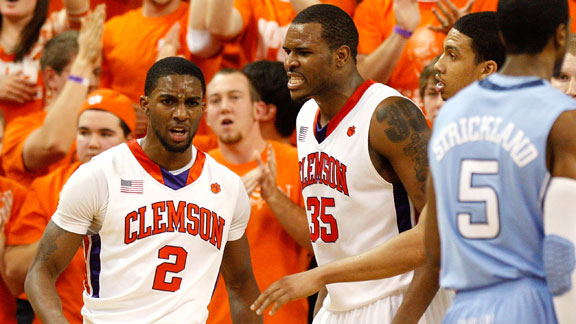 When it comes to celebrating a big win, are you more Barry Sanders or Chad Ochocinco?
Here's the scenario: Clemson routs North Carolina, ending a 10-game losing streak in the ACC not-so-rivalry (the Tigers have never won in Chapel Hill, for what it's worth). As Andy Katz recounts from the scene, Clemson fans storm the court and party it up. One catch. Clemson is ranked No. 19 in the ESPN/USA Today Top 25, all of six spots below the Heels.
The two teams only play once in the regular season, but somehow we don't see fans in Chapel Hill descending from the stands if their team won a return game. So if you're a team that seemingly has every chance to win the conference, should you really want it to seem like you just shocked the world by beating the Tar Heels at your place?
"

Oliver Purnell deserves to have his name on the court at Littlejohn. What he has done at Clemson is amazing. Thank you Oliver. Its been awhile since Rick Barnes left...you helped us forget him.

"

-- Bleedzorange1977
"

The court-storming was unnecessary.

"

-- nailsthesoxfan