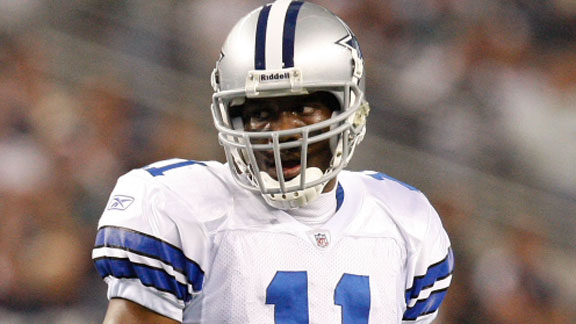 Imagine what kind of extension Norv Turner would have earned if Nate Kaeding could make a kick in the postseason. Between Turner's extension through 2013 and reports the Cowboys will bring Wade Phillips back in 2010, albeit without an extension, some of the juiciest potential offseason drama in the NFL turned out to have a shorter run than "Eastwick" did. Even the Bills found a coach. At least we still have Al Davis?
No two playoff coaches hit lower lows in SportsNation's approval ratings this season than Turner and Phillips. For that matter, not even Kansas City's Todd Haley or St. Louis' Steve Spagnuolo sank as low as Turner and Phillips. So does either team have a coach who can win a Super Bowl, or just a coach who is good enough not to get fired?
Andy (Denver)
What is the likelihood that either of the losing coaches from [Sunday], Norv Turner or Wade Phillips, loses their job?
Jeremy Green
I don't think either one loses their job ... I think Wade has done a very good job with Dallas this season and they care close. Norv I think deserves to lose his job but won't because he keeps putting himself in position to be a contender. Norv is on the hot seat for 2010 though. Full transcript
"

Dallas may continue to post 10 win seasons and get into the playoffs, but if they think Wade Phillips is going to take them to the promise land that's just not gonna happen. Wade's a good coach, but that's as far as it goes.

"

-- xrobologyx
"

Norv Turner is not a good head coach, period. He inherited a Super Bowl team from Marty Schottenheimer and the weakest division in football. The Chargers should not have had to rely on a kicker at home against the Jets.

"

-- TorreroX