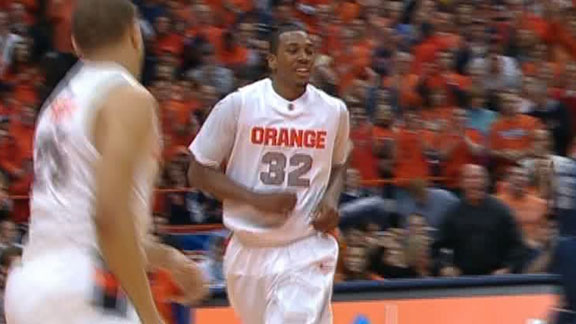 Forget about which team is No. 1; there's not much point arguing that unless unbeaten Kentucky stumbles (and don't count on a trip to South Carolina tonight to do it). The interesting race of the moment is one right out of Joe Lunardi's syllabus. Namely, which teams are on track for No. 1 seeds in the NCAA tournament?
Syracuse staked its claim with a convincing win against Georgetown Monday night, but the fourth-ranked Orange aren't even the Big East's top representatives in the polls. That honor goes instead to No. 3 Villanova, one of four Big East teams ranked in the top 10.
That's good conference prestige -- it might even mean the Big East is better in basketball than the SEC is in football. But could it be bad for Bracketology if Big East heavyweights beat up on each other while teams like Michigan State, Texas and Duke make light work of easier schedules?
By the Numbers (D.C.)
Joe - How is UK the #1 seed overall? Yes, they're undefeated; But I'm a numbers guy -- and I thought you were too. When you look at the numbers (other than win %), there's just no way UK beats out Kansas or Syracuse for the top spot. Check it out: Inside RPI - Syracuse #1; Kansas #2; Kentucky #7SOS - Syracuse #1; Kansas #14; Kentucky #117Top 50 - Syracuse 4-1; Kansas 5-1; Kentucky 2-0Computer ratings also have Syracuse and Kansas at the top, and Kentucky barely scratching the top 10. What gives?
Joe Lunardi

Like it or not, the polls have mattered when it comes to the very top seeds. If the season ended today, there's no doubt in my mind the Committee would install Kentucky as No. 1 overall. And it's my job to replicate what they're going to do.
Ryan (New York, NY)
Assuming both teams maintain themselves over the rest of the Big East, is there any chance that the looser of the Nova vs 'Cuse game could still get a number one seed?
Joe Lunardi

After the Big East got three No. 1 seeds last year, we no better than to disregard any such possibility. Full transcript