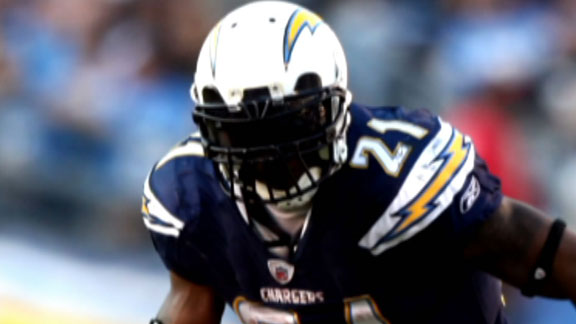 Greatest quarterback of all time? Peyton Manning gets a chance to strengthen his case in that debate on the field in Super Bowl XLIV. Greatest wide receiver of all time? Jerry Rice doesn't get much argument and will assuredly hear his name called Saturday as one of the newest members of the Pro Football Hall of Fame. Greatest running back of all time?
Well, it sure looked at one point in time like it might be LaDainian Tomlinson.
Tomlinson said Thursday he doesn't expect to be back in San Diego next season, which would end a tenure with the Chargers in which he rushed for 12,490 yards (eighth all time) and scored 153 touchdowns (third all time). But after back-to-back subpar seasons, how much does he have left?
Ladanian Tomlinson (Texas)
Do you think I could end up in Houston? Some people are saying Tennesse but I just don't see me fitting into a place with a guy that wants the ball so much.
ESPN NFL Insider KC Joyner

LT just isn't the back he used to be but he still has some tread left of the tire. Tennessee would seem to be a better fit in that they could use his pass receiving skill more than Houston. Full transcript
Garrett (Richmond)
Who do you see having a better NFL future, Adrian Peterson or Chris Johnson?
Marshall Faulk
I think Chris Johnson because he doesn't play the game as violent as AP does. Peterson loves to take the contact and Johnson doesn't really get into all that. I also love Johnson's ability to catch the ball and make plays in the open field. Full transcript