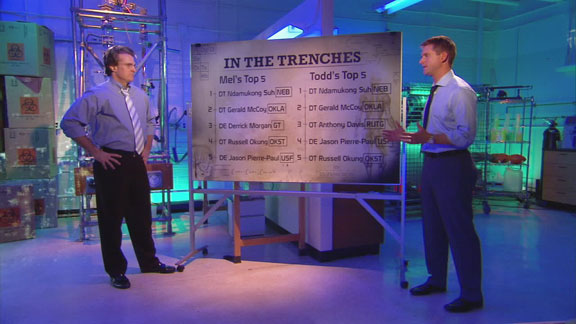 When Mel Kiper, Todd McShay and SportsNation agree on anything, it's notable. Multiply that by two and you've got yourself a consensus as sturdy as, well, Ndamukong Suh or Gerald McCoy.
Suh, the Nebraska star whose performance in the Big 12 title game made Texas quarterback Colt McCoy's injury-shortened appearance in the subsequent BCS title game arguably the better of his final two college games, is everyone's choice as the best lineman in this year's draft. Plus. he's a mobile spelling bee. But former Oklahoma star McCoy is just as clear in the No. 2 spot. And as people in Oklahoma will tell you as they watch Kevin Durant put up 30 points on a nightly basis, being the consensus No. 2 isn't necessarily a bad thing in draft rankings.
Nicholas (NorCal)
Could you compare this year's crop of OT's to years past like Joe Thomas, Ryan Clady, Jake Long?
Mel Kiper

You don't have, right now, the guy going 1, 2, 3, but you could have a guy like Anthony Davis go as high as 5. He could be the next Walter Jones. Great feet for a kid 6-6, 325. Bruce Campbell from Maryland has enormous physical ability. He's more of a late first round pick. The problem with OT is after the first round, then you have to be very very creative and do some good scouting. Some guys to watch out for: Tony Washington, Rodger Saffold, and OG Ramone Herwood. Full transcript