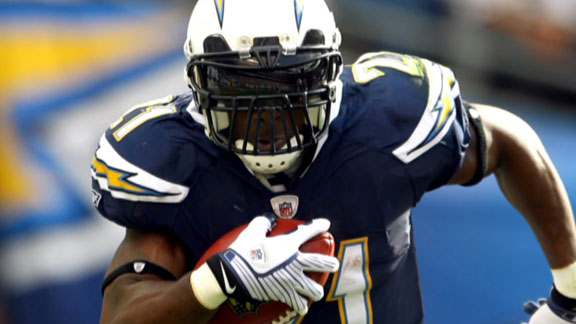 You talked yesterday about what the future may hold for LaDainian Tomlinson in the wake of the league's ninth leading rusher all time getting his walking papers from the Chargers, but the morning after brings a chance to think about LT's place in history (and not just because, as John Clayton suggests in the video above, there aren't any guarantees he has a future in the NFL).
Tomlinson once seemed like a lock to break the all-time rushing record, but now he'll need to find more than 1,600 yards somewhere just to claim fourth behind Emmitt Smith, Walter Payton and Barry Sanders. All the same, for about seven or eight years, the guy dominated the league. So whether you measure against Smith's longevity or the brief dominance of guys like Sanders and Jim Brown, where does Tomlinson stack up among the best ever?
Back to the present, Matt Williamson and KC Joyner looked at Tomlinson's situation in recent chats, and one SportsNation blogger is bummed at how things went down.
"The Chargers should have at least tried everything they could to bring him back not only as a part of a package with either Darren Sproles and whoever they pick up in the upcoming NFL Draft. I have never liked GM AJ Smith. It seems like he will do whatever it takes to run the marquee players (see Drew Brees, and now Tomlinson) and a coach (Marty Schottenheimer) who lost to a guy (Tom Brady) who won three Super Bowls in favor of his own guys." -- Read the TimValenzuela's full post.
Mike (Iowa City)
What about possibilities of LT coming to the Bears?
ESPN NFL Insider KC Joyner

Only question is why would the Bears want him? He has very little tread left on the tire. He'd be a great fit for a team making a Super Bowl run that only needs him for spot play (maybe as a RB/WR or GL specialist). Full transcript
Dallas (Chicago)
Do u think darren sproles is the legit rb now that lt is going away? if not who do u see the chargers replacing lt?
Matt Williamson

No. I see Sproles as a nice guy to have, but a complementary piece. They need a heavier guy to carry the load and establish a physicality on that offense. Make play action work. I am not positive who that guy is though right now. I don't like Dwyer that high. Maybe trade down a smidge and take that monster from Stanford? Not sure of the fit just yet. He doesn't fit my description to a T, but I like Chester Taylor a lot. Full transcript