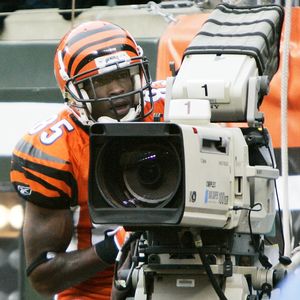 Terrell Owens thinks he'd own all of Jerry Rice's records if he had just played with better quarterbacks. Chad Ochocinco is aiming a little lower when it comes to surpassing the greatest player ever to play the position they all share.
Beat Rice's records on the field? Not likely. Improve on Rice's "Dancing With the Stars" performance? Yeah, that seems like a more manageable goal.
Taking a break from launching his own media empire, Ochocinco is set to be one of three people with direct sports connections on the show's newest season. And despite the fact that both Evans Lysacek and Erin Andrews have backgrounds seemingly better suited to a dance contest -- unless you count Ochocinco's "Riverdance" toucdown celebration -- he's SportsNation's overwhelming pick to fare the best out of the trio.
"

Is there any doubt that Lysacek will win? "Hey Evan, we want you to do what you do for a living. Except, without the jumps and the ice. You know, the hard parts."

"

-- jb1089
"

I don't care if this is ballroom dancing, please let Buzz Aldrin do the moon walk.

"

-- buzzbuzz33