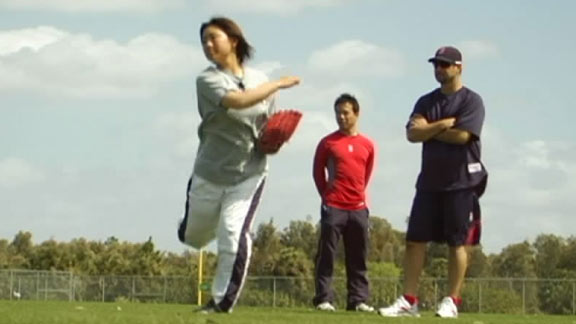 Stephen King had the right idea, just the wrong pitcher. King's "The Girl Who Loved Tom Gordon" focused on the former Boston reliever with the big curve, but the real-life version includes Tim Wakefield and Japanese teenage knuckleball sensation Eri Yoshida.
As this story explains, Yoshida fell for the knuckleball while growing up in Japan and taught herself the pitch by watching video of Wakefield. She was drafted by a team in a Japanese independent league and met Wakefield this week while in the Unites States to pitch in the independent Arizona Winter League.
It's a long way from throwing a few innings in independent leagues to pitching in Fenway Park, but Yoshida is just the latest female athlete crossing gender lines. Maybe David Stern is optimistic in suggesting a woman could play in the NBA within a decade, but what's the most significant story that's already unfolding with women competing with men?
Scott (NYC)
(June 2, 2009) Tim Wakefield has already hit 9 batters this season. 1st place on the all-time list could come as early as next year!
Rob Neyer

Interesting ... Here's a question for you ... Has Wakefield thrown more knuckleballs than anyone else, ever? I suspect that his only competition is Phil Niekro, but I think Niekro threw his secondary pitches more often than Wakefield, especially early in his career.