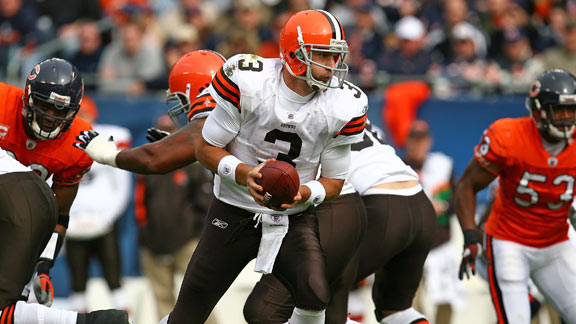 Derek Anderson didn't hesitate to burn bridges while leaving Cleveland. Then again, in a place where the rivers used to catch on fire, people are used to that sort of thing. After the Browns released him, Anderson labeled Cleveland fans "ruthless" and said he couldn't wait to come back through town (he's since apologized). The Cardinals don't play in Cleveland next season, but would Anderson fit throwing to Larry Fitzgerald? That's one question we've got for you, with some insights provided by ESPN's NFL bloggers.
Chad (Luke AFB, AZ)
Whats your take on the Browns picking up Wallace? Do you really think he will give Quinn a fighting chance for the starting job?
James Walker

The trade tells me Holmgren is going to put in principles of his West Coast system. The team has yet to admit that publicly. As far as a QB competition, Holmgren is trying to avoid it this year. So Quinn will either be traded or the team will make a predetermined choice on who starts before training camp. Full transcript
Griff (MN a.k.a. Southern Canada)
Bill Williamson just reported that the Vikings are showing interest in L.T. That said, which of the FA RBs, in your opinion, would be the best fit for the Vikings?
Kevin Seifert

If he's healthy, Brian Westbrook might be the most ideal fit. But the concussion situation is awfully worrisome. Full transcript
Dave (Columbus)
Do you think Cleveland should dump Quinn and start over at QB? With Quinn being a semi-local kid, there's always going to be a QB controversy among fans while he's there.
Lomas Brown

I think they should dump the QB that they can get the most value for. Look to go in a different direction. I haven't seen anything out of Quinn or Anderson, even though they're young, to make me think they are going to be franchise QBs. Full transcript