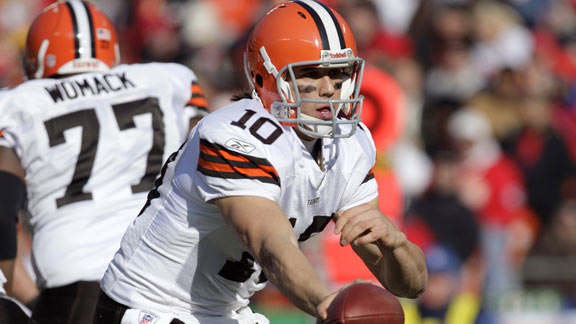 The Jets sign a future Hall of Famer in LaDainian Tomlinson, and he might not even be the best player they got from the Chargers this month. The Browns? Well, we imagine season tickets are just flying off the shelves with Seneca Wallace and Jake Delhomme in the house.
Mike Holmgren is in charge of the Browns, but a Browns fan says the faithful in Cleveland are used to channeling Norman Dale when it comes to authority figures. As in, "I would hope you would support who we are -- not who we are not." So is Eric Mangini Shooter?
"Then they traded for Seneca Wallace, who seemed to be good at little more than keeping the curtain up. Fine. A backup. All right. Then came Jake Delhomme, a veteran who's best days are likely behind him. A better backup, maybe? Put Brady on the trading block to keep him on his toes, or if someone can be duped into overpaying for him. ... But this? A sixth in next year's draft, a conditional pick in 2012 and a fullback? What are you going to get with that sixth round pick? A backup safety? That's what our hopes were worth?" -- Read SNight322's full post.
"

Statistically, Tim Couch was a better QB over his first 14 games than Quinn has been. Sad but true.

"

-- Henta469
"

LT is a much better receiver out the backfield than TJ and it would not surprise me if he gets most of the downs as the lone back on passing plays. I can only imagine how much more damage he can do given the chance to work behind the Jets O-line.

"

-- heyjacleu