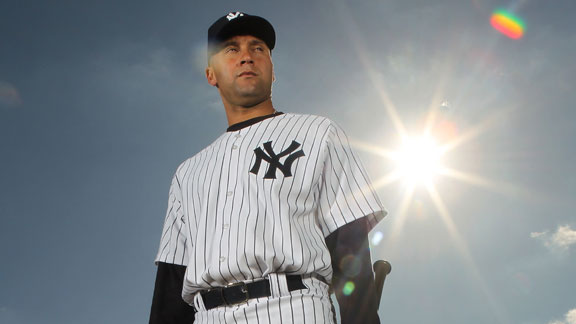 One week remains until baseball's Opening Day -- unless you count the Sunday night Red Sox-Yankees game (8 p.m., ESPN) as "opening day," which we don't, because it's technically nighttime. Ain't life grand? Day games! Doubleheaders! Matchups between the Pirates and Nationals! Truly, we live in a rich and glorious time.
As always, rivalries are the main focus of any baseball season. The Yankees and Phillies may have a burgeoning feud after New York's victory over Philadelphia last year, but fans seem to hope a more pressing postseason battle is renewed. Speaking of the Red Sox, there is some speculation that, with the return of Daisuke Matsuzaka, a six-man rotation is possible. Oh, those crazy Red Sox, with Bill James and their closers-by-committee and their sabermetrics. What'll they come up with next? For what it's worth, fans think that a six-man rotation just might work.
Make sure to log on and check out our MLB preview all week. For now, check out Buster Olney's predictions and see if you agree.
Stanley (Duluth, MN)
Rob--who's your pick in the AL Central? I think that people are selling the Twins pitching short. Baker, Blackburn, Slowey, and Pavano, plus Liriano/Duensing, are good enough with that lineup. And it's not like our bullpen is all of a sudden horrible with Nathan out. Thoughts?
Rob Neyer

No, not horrible ... Still, they just lost 20-30 runs, right? Now think about how close the Central has been in recent seasons ... I think the Twins have been knocked back to roughly 85 wins, and co-favorites with White Sox. Full transcript
Steve (CA)
Do you think ST is too long? It seems like there's a lot of injury risk, and if they shortened it up a bit, we could make the Divisional Series 7 games and not have to play baseball in November when the weather gets really bad.
Keith Law

I think major league ST is too long and minor league is too short. But major league ST is a profit center for at least 2/3 of teams, so it's not getting any shorter. Full transcript