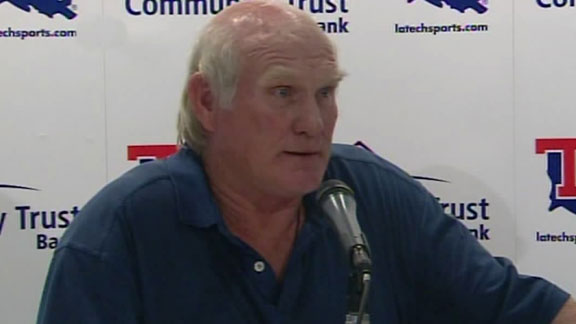 All things being equal, we'd greatly prefer another summer of people standing on Brett Favre's lawn to this.
There's nothing about the Ben Roethlisberger situation that's enjoyable to discuss, but here's what we know about the guy SportsNation ranked as the NFL's No. 10 quarterback just four months ago. Roethlisberger will not face charges relating to the much-discussed alleged nightclub incident in Georgia. The quarterback read a brief public statement in which he said he wanted to put the incident behind him. But that reportedly won't happen until he first meets with NFL commissioner Roger Goodell.
So the questions now are will Goodell discipline Roethlisberger despite the lack of criminal charges, and strictly from a football perspective, has Roethlisberger's on-field stock taken a hit despite not playing a game? Rank the top quarterbacks.
SprungOnSports (Long Island)
With Santonio Holmes out in Pittsburgh, do you think Ben Roethlisberger is next? The Rooney family always puts character before winning.
Gary Horton

I don't think so. Holmes is a little different than your QB. I think if Big Ben is cleared today of the charges in Georgia, like we've heard, that's good for him, but I still think from the organization's standpoint, the disappointment continues in the fact that he puts himself into these situations. My guess is that the front office will make it very clear to Big Ben to clean up his act. I believe that he will. I think we'll get past this with him. Full transcript