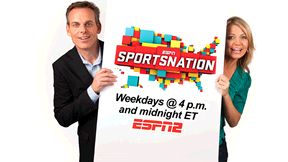 Today on "SportsNation," Colin and Michelle debate whether Phil Jackson's comments about Kevin Durant getting preferential treatment were disrespectful.
Then, on Walk the Plank, Colin dresses up like a pirate, and we find out what percentage of SportsNation says the Steelers should part ways with Big Ben. All that, plus we'll expose the biggest liars in sports on the BS Meter, you rank the best wide receivers in the NFL, and video of a 3-year-old snowboarding legend.
We air at 4 p.m. ET on ESPN2 today!
Note: Broadcast voting results are as of this afternoon (ET).
On Wednesday, Jackson told reporters that Durant gets preferential treatment from refs. Durant responded by saying the comments were disrespectful.

Randy Moss may no longer be the best wide receiver in the AFC East after the Broncos traded Brandon Marshall to the Miami Dolphins earlier this week.

The seventh-seeded Spurs will face Dallas in the opening round of the playoffs. J.A. Adande says they're the scariest team in the playoffs. Do you agree?





What is "SportsNation" TV, and how do you make your voice heard? Read about the new ESPN show that features fan opinions with calls, tweets, polls, rankers and more.