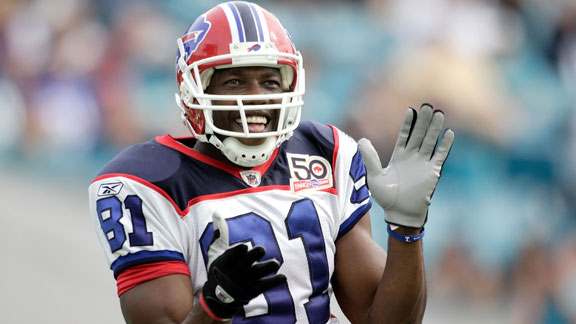 It's not quite Simon and Garfunkel (or even Kobe Bryant and Shaquille O'Neal, for that matter), but reports that Donovan McNabb is lobbying his new team to consider signing his old nemesis, Terrell Owens, made for juicy reading Tuesday. But drama aside, how much football sense would the move make?
A majority of SportsNation voters believe T.O. is still one of the top 20 receivers in the NFL. At least, they believe that in theory. Earlier this week, SportsNation ranked 20 of the league's best receivers not named Owens. And when you pit T.O. against the guys at the bottom of those rankings, he starts to look the worse for wear.
Marc (City of Brotherly Love)
Happy Green Day!!!!! Where have you been hiding at Jeremy? Which is crazier? The Eagles brass saying they are not rebuilding or McNabb lobbying for TO in DC? Great to have you back buddy!!!
Scouts Inc.'s Jeremy Green
Probably McNabb lobbying for TO in Washington. Sounds bizzare but he is right in that at least on the field he would fill a void in the offense. Full transcript
"

TO no longer has the skills that make him desirable to teams. Now he actually has to quit acting like a self centered jerk and try and play nice so maybe, just maybe a team with a shot at winning a few games show some interest. Under it all, TO can't change who he is, though, which is a team chemistry killing cancer. TO=Team Obliterator!

"

-- SeaDog73
"

Wow. Washington signing T.O. to play with McNabb would be the ultimate "salt in the wound" moment for us Philly fans.

"

-- rodeojones000