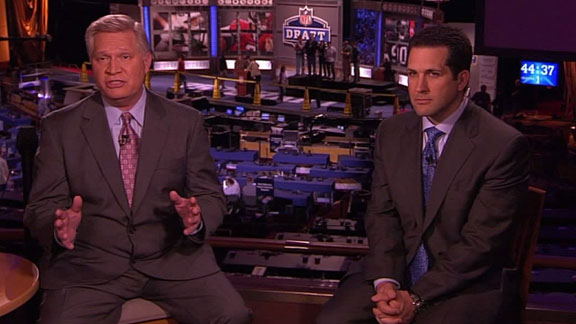 Despite Jay Cutler and Donovan McNabb changing teams in recent years, franchise quarterbacks in their prime don't get traded very often in the NFL. In fact, to find a quarterback with multiple Super Bowl rings who was traded with any miles left on the tires, you pretty much begin and end with Joe Montana. And Montana wasn't exactly in the prime of his career when the Chiefs gave him a last hurrah.
So to hear Adam Schefter report that the Steelers may be exploring trade options involving Ben Roethlisberger? Well, that just about sums up where things stand for a quarterback who voters suggest has replaced Michael Vick as a toxic commodity.
When SportsNation ranked NFL quarterbacks a little more than a month ago, only four quarterbacks improved more than two spots from where voters ranked them toward the end of last season. Two are young guys, Mark Sanchez and Matthew Stafford, who it makes sense to imagine will improve. Another is Jay Cutler, who frankly, couldn't be any worse than he was last season. The fourth guy SportsNation liked much more in March than they had in December? Roethlisberger, who voters ranked No. 7 overall. So what toll has the last month taken on his on-field stock? Rank 'Em
Robert (Latrobe, PA)
Rumor is now that the Steelers are contacting teams about a Roethlisberger trade. What is the fair market value, even with his off-field issues? I would think if Cutler could bring in two firsts, a third, and a starting QB, Roethlisberger would command something similar, even with his issues.
Scouts Inc.'s Matt Williamson
I tend to lean towards what you said too, but it sounds like Ben will be suspended 4 to 6 games this year-that doesn't help his immediate value! Still, I seem to be in the minority though and most tend to think that PGH won't get nearly that much -- which, in the end, probably means that he stays. It wasn't like Cutler was a Saint though -- he had his critics with off the field behavior and wasn't nearly the winner that Ben is. Frankly, Ben is just a better player -- and is still very young. Could get 8 to 10 years of him as your starting QB. That Raiders' offense would be quite strong with No. 7 added to it. Full transcript
"

[A] top ten pick in the draft would be amazing. So you lose a franchise quarterback, big deal. BR will never be Bradshaw and will continue to be a liability for the Steeler's impeccable pedigree.

"

-- stanberd22
"

Rebuilding time. Leftwich can lead this team to a 9-7 record. We may miss the playoffs but McCoy or whomever they draft will be learning.

"

-- Frozen_In_Time