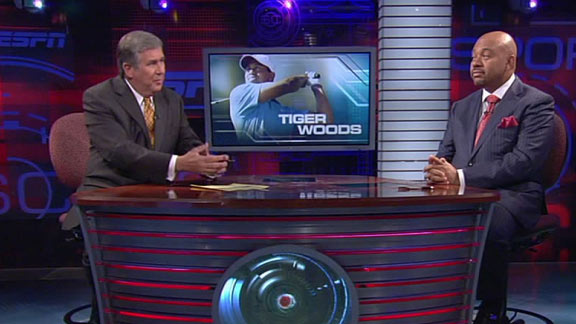 There was a time when Tiger Woods eclipsing Jack Nicklaus as the greatest golfer of all time seemed inevitable. Then again, there was a time when Blockbuster seemed like a pretty good business model.
A relative unknown on this side of the Atlantic put together a tremendous final round to escape Phil Mickelson and other contenders and win his first career PGA Tour title (Tim Clark, meet Rory McIlroy). And once again, the story was Tiger Woods not playing 18 hole on Sunday. Woods made the cut this time but bowed out of the Players Championship during the final round with an an injury.
Woods is 34 and still needs five more major titles to pass Jack Nicklaus. And even if you think this latest setback won't hurt Woods' on-course performance in the long run, there's the matter of his image when it comes to any debate about the greatest of all time. So when it's all over, who comes out ahead: Tiger or the Golden Bear?
Brian (Westborough, MA)
Arnold won his last major when he was 35, Watson when he was 34 (for now). Are we taking it for granted that Tiger will be more like Trevino, Snead and Nicklaus and win majors until he's in his 40s? Even some of the greatest ever stop winning majors at the age Tiger is at now.
Bob Harig
Brian, I think we are taking it for granted. Even Nicklaus won a very small number of his majors after age 35. But remember, Tiger won seven times around the world last year coming off a knee injury. Full transcript