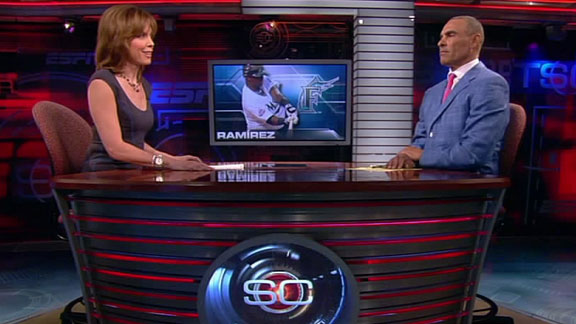 Hanley Ramirez never seemed to get out of second gear as he jogged after a ball he originally kicked into the outfield during a game against the Diamondbacks. Unfortunately, the Marlins shortstop then went all out in turning a potentially minor incident into a national debate by blasting the manager who dared call him on his sloth.
Benched after the play in the field -- on which two Diamondbacks scored -- and left out of Tuesday's lineup, Ramirez fired back. The shortstop suggested he wasn't the only player on the team who didn't hustle and that manager Fredi Gonzalez, who never advanced out of the minors as a player, didn't have the credentials to tell him what to do.
Suddenly, Red Sox fans think Josh Beckett's 7.29 ERA looks pretty darn good in comparison to the guy they traded away for the pitcher. But was Ramirez's biggest sin not hustling or not accepting the punishment?
Jon E (Ankeny, IA)
What are your thoughts on Hanley Ramirez' future after watching him casually saunter after that ball last night?
Hall of Famer Joe Morgan
I'm one to give a guy the benefit of the doubt, unless this is a trend. Remember, he fouled a ball off his ankle in his first at bat and it took him a long time to get back into the batter's box. That's no excuse for what happened, because if you can't run, you should come out of the game. What his future holds is up to the Marlins and how he responds to being taken out of the game. Full transcript
"

This kid has more talent (as far as baseball) than any other short stop in the league... Now with that said he is dead wrong for callin out his coach. Oh man on so many levels! I really think he should be suspended and there should be a new rule preventin a player from dogiin their coaches in the media like that.

"

-- gobears2652
"

to me it all comes down to this: Would Jeter ever do this? Would Utley? Halladay? Pujols? They're winners, Ramirez is not. I believe you can't win with that attitude, no matter how much talent you have...

"

-- philliesphan4ever20