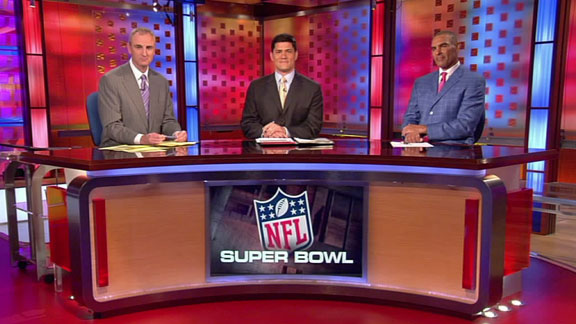 Take the biggest sporting event on the calendar, put it in the biggest city in the country and stage it at the least desirable time of year to be in said city. What could possibly go wrong?
The Jets and Giants are combining on a bid to host the 2014 Super Bowl at the new stadium they share in New Jersey. NFL owners will vote next Tuesday on whether to venture outside at a cold-weather site for the first time or go back to a more familiar site, either Miami or Tampa, Fla.
All things considered, we can't argue with the point made by new Meadowlands Stadium Company CEO Mark Lamping, who said, "A New York/New Jersey Super Bowl will be unlike any other."
Just like the iPad. Or the Titanic. Take your pick.
"

While weather maybe a factor, having it in the New york would a nightmare on traffic, flying into JFK or LaGuardia would be a hassle with the added traffic, hotels would be an adventures, and really do you want to sit in the cold weather?

"

-- aamubluephi
"

The cold weather doesn't stop thousands of people from crowding into Times Square for New Year's Eve, does it? All of those people come from out of town by the way. Doesn't stop people from watching the tree lighting at Rockefeller Center either. Yes, no one would want to go to Tampa Bay or San Diego if it was 30 degrees outside. Cold weather doesn't stop people from coming to NYC, because it's NYC. Something that a lot of people refuse to admit.

"

-- jb1089
"

the first outdoor, cold-weather super bowl should be reserved for green bay. state-of-the-art facilities, all the history you could ask for. anyone who claims to be a football fan would love it, regardless of how cold it is on the first sunday in february

"

-- seemandemon
"

Dear New York, Nobody else in the country wants a Super Bowl in the snow. So just stop already with this idiotic idea and get over yourselves. Kindest Regards, Everyone

"

-- criticalmoss