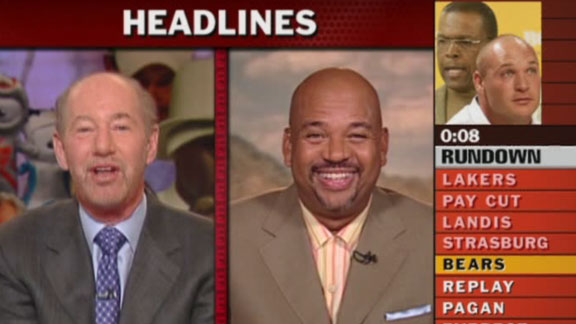 Carlos Zambrano picking a fight with Mitch Williams? Sure, why not. Joakim Noah sparring with Charles Oakley? Yeah, makes sense. We maybe could have even bought Patrick Kane talking trash to Jeremy Roenick. But Brian Urlacher and Gale Sayers? Definitely not the representatives of Chicago sports past and present we had in the feud pool.
In the best Bear-on-Bear action this side of medieval Russia (and people said that history degree was useless), Urlacher, Sayers and Dick Butkus are off and running. Sayers started things off by answering a question about the current Bears with some (rather mild) criticisms. Urlacher took it up a level, Brick Tamland-style, by questioning why a guy who never won a playoff game felt the need to criticize his former team.
That, in turn, led Butkus to chime in with support for his former teammate, which made us wonder about which Bears linebacker it's most foolish to pick a fight with.
"

People will always remember Gale Sayers. Urlacher is just a good linebacker, but theres definatly a lot that are better then him. Past and present.

"

-- ajp_
"

As a Bears Fan unless you're in the Media former players shouldn't throw current players under the bus PERIOD. Even Lions fans are optimistic. You're either a fan or not.

"

-- HJames1193