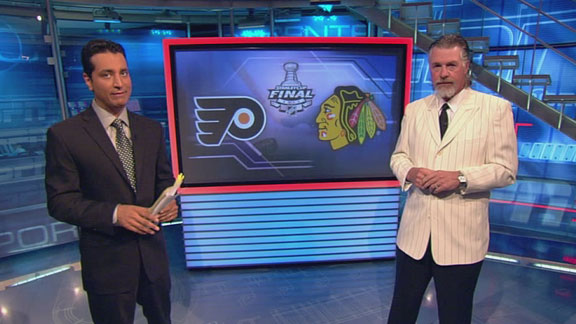 Anyone who resides in Chicago knows not to mess with goats. Or curses. And especially goats that might carry curses. Jonathan Toews may be only 22 years old, and he may be a Winnipeg native, but he clearly knows there is way too much negative sports history in the Windy City to start spitting (teeth) in karma's face.
After beating the Sharks in the Western Conference finals, Toews, who doubles as captain of the Blackhawks, wouldn't touch the Clarence Campbell Bowl, honoring a hockey superstition that players shouldn't touch any trophy that doesn't carry Lord Stanley's name. But after polishing off the Canadiens in the Eastern Conference finals, Flyers captain Mike Richards showed no such caution in snatching the Prince of Wales Trophy (which, by the way, the Duchess of York can get you a really good deal on).
The experts can talk about which team's defense is best or whether or not Michael Leighton can keep standing on his head in goal for the Flyers. We say go ahead and give Toews the Conn Smythe Trophy already. Just don't expect him to hold it.
bobby (miss)
who will have a better career towes or kane
Scott Burnside
bobby; That's sort of like the Betty and Veronica question (not that I'm comparing Patrick Kane to Betty. Or Veronica.) I think of Joe Sakic and Peter Forsberg in their prime in terms of two dynamic players who had distinct personalities and skill sets. Sakic and Toews are similar in terms of their leadership and all-around games while Kane may be the more dynamic and produce more points. If they can keep them both it's a pretty good debate for a team to have. Full transcript
TK (Chicago)
Is Toews the best player in the NHL right now? I get Crosby and Ovi are great offensive threats, but Toews can play 5on5, PP, PK, assist, score goals, block shots. There isn't anything he can't do where you can't say the same for Crosby and Ovi.
ESPN Chicago's Jesse Rogers
Tough one to answer. Sid can do all those things too. He and Ovi have more natural talent. If you lined them up, most GM's would take Sid, I believe, but Toews is rite there. What a stud to have as your captain and he's only 22. Full transcript