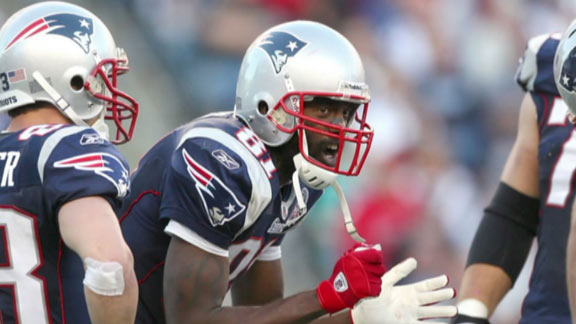 See how easy that is, Brett? With news that Randy Moss was parting ways with his agent, rumors started circulating that Moss might be on the verge of walking away from th NFL after this season. Not so fast, said the Patriots wide receiver, who confirmed he doesn't plan on retiring soon. No fuss, no drama and no camera on the lawn. Now the question is what uniform will Moss be wearing in seasons to come?
"This will be Moss's last year with the Pats. BB always thinks ahead and will let the older and more importantly, more expensive Moss go seek his fortune elsewhere. Look for another wideout or 2 to be drafted next year as the youth movement continues in NE. Brady, and only Brady, will get paid the big bucks as he heads into the final third of his great career." -- SN commenter mr.jibz
"I hope the Pats are able to bring Moss back for the remainder of his career at a reasonable contract. Moss' hands and intelligence are as important to his success as his speed, there is no reason to think that he can't continue to be productive for a few more years." -- SN commenter stevejdolphin
dave (madison nj)
kc do you think tory holt will pick up the slack at the beginning of the season that wes welker's absence will bring or will the pats look to eddleman to fill that roll reason for the question is remembering what a bust galloway was for the pats last year
K.C. Joyner
I have written a couple of pieces illustrating how Edelman's stats indicate he should be able to fill in quite effectively for Welker. Regarding Holt, I can't think of a better situation for him than NE. He is pro's pro who likes mentoring other players, and his numbers last year were actually quite solid. NE should be in very good shape WR-wise with or without Welker. Full transcript
Andrew (PA)
I heard T.O wants to play in NE oppsite Moss, could that happen?
Matt Williamson
At this point, I see TO as a bargain. Why not? If you search for it, I recently did a write up on four teams sets of receivers and NEng was one of them. That group (including TEs) is really growing on me. Sure, TO wouldn't hurt and I think he is a superior player to Holt right now, but I also don't think he is needed. Full transcript
SteveB (Millbury, MA)
Mike,A lot of expectations seem to be building for Brandon Tate this year. While I can definitely see that in terms of the return game, isn't a bit of a stretch to expect that in this passing offense? He never really had a big season at UNC, his high reception total was only 25 as a junior. Do you really see him as being a big part of this passing offense?
ESPN Boston's Mike Reiss
I'd start with Tate as a return guy, because I like him with the ball in his hands. Then I'd look to him as a third or fourth option behind Moss, Edelman and Holt. Full transcript