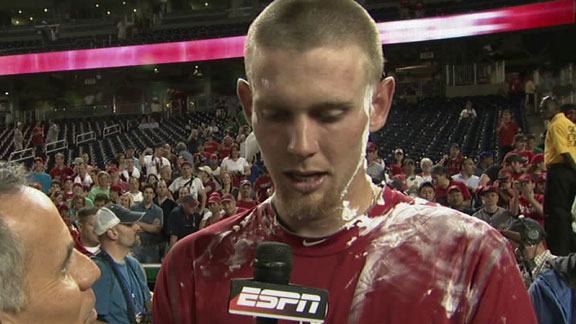 SportsNation, we'd never accuse you of being indecisive. Never! You and we are buds! We will, however, suggest that you're a bit swayed by the news of the day.
Take the two big prospects of the moment: Jason Heyward and Stephen Strasburg. They're both exceptional players: Heyward has near-Ruthian power and Strasburg near-Goodenesque velocity. The debate over which player is better is an interesting one, considering that they'll face one another in the NL East many times over their hopefully lengthy careers. We've compiled some polls we've asked over the past few months, taken in the preseason, after Heyward's one-homer/four RBI debut and after Strasburg's 14-K first start. Suffice it to say that you've had more than a little trouble making up your mind.
Frankly, we can't even blame you all that much. When confronted by that much pure awesomeness ... well, the human psyche can barely handle it.
Micah (CT)
Strasburg looked unstoppable on the mound Tuesday. Think he can take ROY away from the likes of Leake and Heyward?
Joe Morgan
I don't see how that could happen. But anything is possible. Heyward has been a star since Opening Day. Leake is undefeated. They have really helped their teams and a big reason they are in first place. I tend to believe a guy who plays the whole season is a better candidate. Full transcript
Daniel (Tallahassee)
Joe, I realize Strasburg was amazing but shouldn't the Pirates be kind of embarrassed by their performance? Like Tim Kurkjian said, several of those at-bats weren't even competitive. Do you think they let the hype around Strasburg get to them?
Joe Morgan
I don't think they should be embarrassed. That's who they are. They are a free-swinging team. A perfect matchup for Strasburg. They are not a team that will take a lot of pitches. They swing at a lot of bad pitches. I wouldn't go as far as saying they weren't competitive in some at-bats. They were competitive, just overmatched. Full transcript