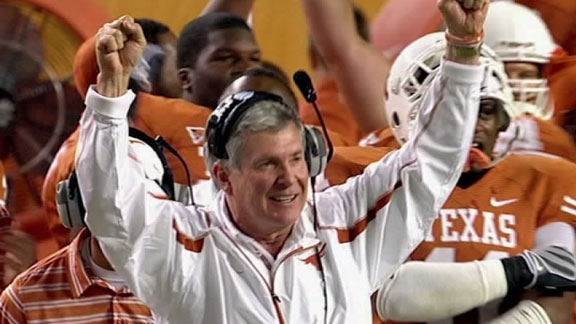 The Big East has teams in Milwaukee and Louisville. The Big Ten not only has a name that's out of date but a logo (with the embedded "11" in it) that's doubly wrong after adding Nebraska to the mix. The Pac-10 and Big 12? Not for math majors. At this rate, Conference USA needs to add the University of Western Ontario just to keep up with the big boys. But now that Texas has apparently saved the 10-team Big 12 by graciously accepting the opportunity to make more money than anyone else, what should we do about the name?
SportsNation blogger MightierToaster thinks the answer isn't coming up with a new name to match the math (and as a Big Ten fan, he has some experience with this). Instead, he thinks the answer is finding new non-Texas schools to match the old name.
"Tulsa - Have a history of success and in Oklahoma, natural rivals.
Memphis - Terrible football, has ability, but brings great BBall.
Add the Florida market with either FAU or UCF.
MTSU - Great up and coming program under Stockstill, adds Tennessee market."
-- Read MightierToaster's full post.
Craig (Oklahoma)
I have an idea for the Big 12: add TCU and Tulsa to the conf. and put TCU in the south and Tulsa in the north, plus move OSU to the north. Just an idea, what do you think?
Bruce Feldman
I don't think its crazy. TCU is a big time program with great history. IT's not like you said shove two Sun Belts teams in there. Full transcript