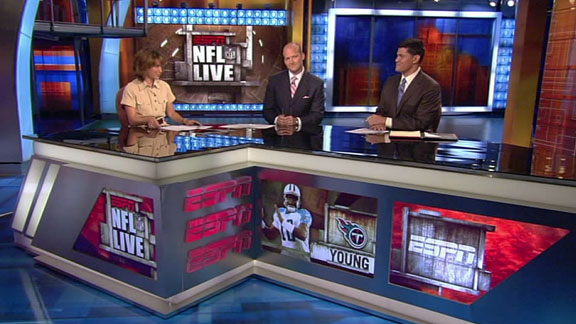 USC is looking at a lean few seasons, at the very least, as a result of Reggie Bush's time with the Trojans. Vince Young is worried about Roger Goodell handing him a suspension after the Titans quarterback was involved in an altercation in a strip club. And Matt Leinart is trying to fend off Derek Anderson for snaps in Arizona.
You want to try and convince us the 2006 Rose Bowl wasn't cursed?
What some called the greatest game ever played still looks like the high point in the careers of three of its biggest stars. Young made a Pro Bowl and played well last season, but this latest incident doesn't help his cause. Bush has a Super Bowl ring and his share of highlights, but he hasn't exactly been Barry Sanders. And Leinart has fewer than half as many career touchdown passes as J.P. Losman.
So while we await Goodell's reaction to Young's incident, what does the future hold for him?
William (Kenner)
Pat, I attended the recent Saints minicamp. I asked one of the Saints coaches (who I won't name), what will happen if Pierre Thomas continues to hold out. He said, certainly we want him back and believe he'll back. But either way, a healthy Bush is going to be the featured back and earn every cent of that $8 million. He also added that they felt Bush improved dramatically last season running the football. Your thoughts on Bush getting 15 carries a game? Could this be why they are playing hardball with Thomas?
NFC South blogger Pat Yasinskas
I thought Reggie looked faster than ever at minicamp. Someone close to him told me he's healthier than ever. Sounds like a formula for a big year, but I think Saints will be careful not to overuse him. If Pierre doesn't come back, they'll add another RB to the mix. Full transcript