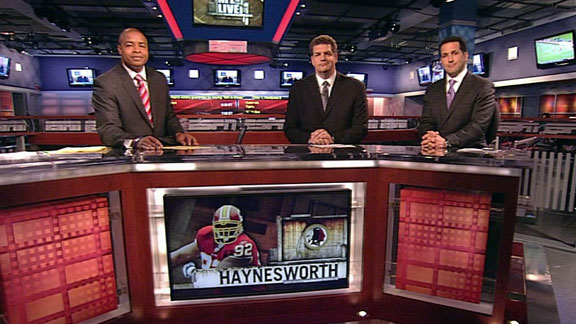 At least we know what defense Albert Haynesworth won't use if we ever play him in Madden. The world's biggest critic of 3-4 defenses -- especially those with him in the middle of that first number -- Haynesworth is making a bid to replace Gilbert Arenas as D.C.'s most shunned millionaire.
And while it doesn't help when teammates are publicly calling you "selfish" and your coach is talking about the $21 million you took this spring under the guise of playing along with the new scheme, is there a chance -- just a chance -- that Haynesworth has a point? If he received assurances he wouldn't have to play the 3-4 when he signed last year, is he entitled to both his money and a bit of grumpiness about his new lot in life? At least one SportsNation blogger thinks so.
"I believed 100% he was promised schemes on defense by management to utilize his talent to the best that he knows. No one asks Redskins Management, "What are these promises that Albert was talking about?" Every analyst seems to [sneak] that in for just a second before they talk about all the money but like it or not ... there were promises made, Albert got wooed, and if you don't think Mr. Haynesworth was going to command and get at least 35-40 mill guaranteed somewhere else, then you is a fool." -- Read Noliaboy1467's post.
Fat Albert (D.C. )
Would you trade for Albert Haynesworth? What would you give for him?
Scouts Inc.'s Matt Williamson
Well, first off, I am not positive where the best destination is for him. I REALLY like him as a player though. Still. Many seem to think that he isn't nearly the player he was in Tennessee, but I disagree. I think he can be dominant again -- immediately ... but in a 4-3. How many teams are running that scheme now? Not all that many and most really don't have a massive DT need. Still, if I am Tenn for example, I give up a third-round pick in a heart beat. Full transcript