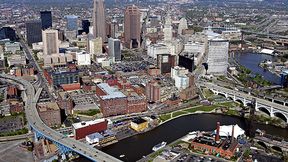 For Cavaliers fans, the first stage will be denial. As NBA free agency begins and suitors from Chicago, Miami and New York officially come calling on LeBron James with offers of very-told riches and rosters that don't include Mo Williams, Delonte West or the ghost of Shaquille O'Neal, fans in Cleveland will convince themselves there is a plan to keep the city's greatest treasure. SportsNation blogger unklerob lays it out.
"So what are the Cavs to do but lay back -- maybe they DO know what they are doin', maybe Bron and Melo have it worked out that in '11 Melo links up with Bron in Cleveland. I mean if Karl leaves what are Melo's ties to the Nuggs? Chauncey is gettin' old K.Mart is beat up JR Smith ain't seen a shot outside the building he doesn't like and won't take. Maybe Melo sees the easeiest road to a title is from east to west instead of banging his head against the western wall." -- Read unklerob's full post.
But should the day come that LeBron parts company with his not-quite-hometown, anger will surely be ushered in as the second stage of grief -- anger at both star and team.
"The closer we get to July 1st the more of a joke I think the Cavs organization is. They have had ample time to put a plan together for keeping Lebron and seem to be far from doing so. It is almost as though they haven't put any thought into helping Bron on the court and have put all their eggs into the basket that Bron wants to stay in Cleveland more than anything and wants to win in Cleveland." -- Read greg_g74_pt.2's full post.
As for bargaining, depression and acceptance, well, Cleveland fans have some experience with these things. Just ask Art Modell, John Elway, Earnest Byner and Michael Jordan.
What about the rest of SportsNation? If the day LeBron signs elsewhere shapes up as the worst day in Cleveland sports history, what's the worst day in your city's sports history?