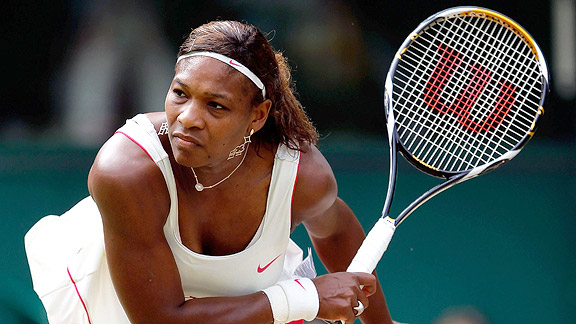 Serena Williams' victory at Wimbledon gives her 13 major titles and allows her to pass Billie Jean King to sit in sixth place on the all-time winners list. Previously, Williams won what the media termed the "Serena Slam," taking four major titles in a row in a noncalendar year. And she is the only player in this generation to even come close. It's an impressive career, but how does it compare with other tennis greats?
Steffi Graf's noncalendar year slam, which she earned in 1993-94, isn't often mentioned because she holds a true Grand Slam. It's called a Golden Slam because Graf also won the Olympic gold medal in 1988. No woman has been able to win all four titles in a calendar year since. Graf finished her career with 22 major titles.
Martina Navratilova, who continues to play on the main circuit mostly in doubles, owns 167 tournament titles -- more than any other man or woman. In 2003, she won the mixed doubles title (with Leander Paes) to become the third woman ever to win a singles, doubles and mixed doubles title at all four majors. Navratilova also won a noncalendar year slam in 1983-84.
Chris Evert is tied with Navratilova with 18 Grand Slam singles titles. (Margaret Court leads all players with 24 and Helen Wills Moody is behind Graf with 19.) Evert finished her career with a winning percentage of .900 -- the highest in tennis history.
So, does Williams face tougher competition today, which makes her 13 major titles more impressive, or does she need to earn a few more major titles to be considered the GOAT? Vote now and leave your reason why in the comments below!