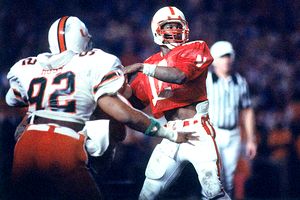 Tune in to "College Football Live" on ESPN at 3:30 p.m. ET each day this week for more of the greatest "What if?" questions in college football history.
What really happened in the 1984 Orange Bowl: Undefeated Nebraska met upstart Miami, completing just its fifth season under Howard Schnellenberger after laying dormant as a college football wasteland for years. With Nebraska trailing 31-30 with less than a minute to play after scoring a touchdown, Nebraska coach Tom Osborne went for the two-point conversion. It failed, Miami won its first national championship and a dynasty was launched.
But what if Nebraska won?
How would the football landscape in Florida have been different? Would Miami still have gone on to become a national power? Would Schnellenberger still have left and opened the door for Jimmy Johnson's arrival?