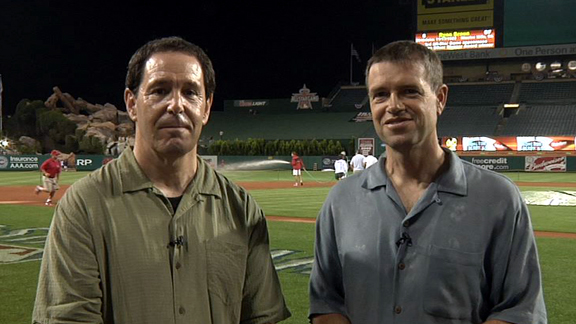 It's not like all of SportsNation wrote off David Ortiz when the aging slugger got off to a slow start for the second consecutive. Only 37 percent (including 44 percent of voters in Massachusetts) said the Red Sox should simply get rid of him after three lousy weeks to open the season.
But does a surge in May and June, capped off by a command performance in Monday's Home Run Derby, really merit a long-term contract extension? Maybe if you believe Ortiz is working on a Hall of Fame career. But even the two Hall of Famers Baseball-Reference.com feels are most comparable to Ortiz through age 33, Willie Stargell and Willie McCovey, tailed off noticeably at about this age. And some just don't see the logic in keeping Big Papi.
"I'm a moderate Papi supporter...the slumps to begin the last two seasons have been brutal (and costly) but he turned it around and averaged out to typical "aging slugger" performance levels. Problem is an "aging slugger" isn't worth 12.5 mil a year... or even 10 mil a year. I'd be ok with 4 years 35 mil or so but I doubt he'd be happy with that, in which case you need to let him walk ... don't pick up the option and don't resign him for anything more than 8-9 mil per year." -- SN commenter TDesmo
Ethan (Berkshire County)
Do you think the Sox will let Papi go no matter how well he performs for the remainder of the season? Seems like Theo has learned his lesson on extending/signing veterans on the decline regardless of popularity.
ESPN Boston's Gordon Edes
Ethan, Ortiz has at least given himself a fighting chance at having his option for next season picked up. I can assure you, though, that the decision will be based on production, not popularity. His bat may well be worth keeping for another year unless you're certain of replacing it. And I don't see any certainty yet. Full transcript
"

Glad to see Papi still being Papi. I missed his jovial demeanor. He's still the man.

"

-- duke81681