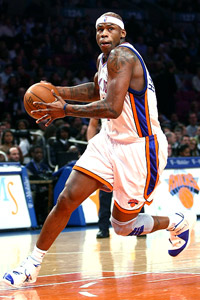 A consolidation of player power in Miami is the talk of the offseason, for obvious reasons. But when do we talk about a diffusion of power in the Western Conference?
Phoenix moves on without Amare Stoudemire but with Hedo Turkoglu. Utah has to hope Al Jefferson and Raja Bell equal the departed Carlos Boozer and Kyle Korver. Dallas kept Dirk Nowitzki, no minor feat, but it's hard to envision Tyson Chandler as the missing piece of the puzzle. Will impending free agency distract Carmelo Anthony? Will Yao Ming stay on his feet for an entire season? Should we just let the Lakers skip ahead to the NBA Finals?
In following Horace Greeley's advice, Al Harrington said he picked the Nuggets instead of the Mavericks based on each team's potential (the extra money inherent in suggestions that the Mavs were loathe to give him five years probably didn't hurt). We say if Harrington can judge Western Conference potential, he's a better man than us.
jay (uptown dallas)
are the mavs seeking ant other trade scenerios right now
ESPN Dallas' Jeff Caplan
Jay, Donnie Nelson says the team will be as active as ever. They'll continue to probe New Orleans about Chris Paul. the Hornets just fired GM Jeff Bowers, so things are in flux there and Paul is getting increasingly uneasy about the direction of the franchise. Otherwise, the Mavs will keep calling clubs for trades, kicking around Carmelo, as if that's going to happen, but yes, they will be looking for trades, particularly a blockbuster to land a star to pair with Dirk. I think the percentages are low. Full transcript
"

Great signing by Denver. Al Harrington was the only bright spot on a horrible Knicks team. He's young and from NJ so you know he has energy and toughness.

"

-- mcbrinkosu