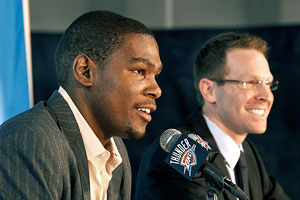 For a guy with more than 200,000 Twitter followers, Kevin Durant seems decidedly old school.
Rather than make his own free-agent splash next summer, Durant quietly announced (via Twitter, of course) he had signed an extension with the small-market Oklahoma City Thunder -- and then seemed surprised people praised him for not making it into a spectacle. And as LeBron James, Dwyane Wade and Chris Bosh baffled old-school icons like Michael Jordan and Charles Barkley by working out a way to play together instead of beat each other, the 21-year-old Durant echoed the previous generation's sentiments when he wondered (via Twitter, of course) what happened to wanting to beat the best?
We've already seen that Durant has higher favorability ratings among fans than LeBron, Dwyane Wade or Dwight Howard, so is it possible that all this offseason has really done is cement Durant's place as the future face of the NBA?
"

Durant > LeBron. MJ passed the torch to Kobe, and Kobe will pass it to Durant, skipping LePippen and rightfully so.

"

-- xrobologyx
"

I love Kevin Durant, but, really, the Oklahoma City Thunder are almost neck-to-neck with the San Antonio Spurs in terms of best-run organizations in the league. It's easy for him to say, "I want to be in OKC my entire career." Would LeBron be fleeing if Jim Paxson and Danny Ferry were as visionary as Sam Presti?

"

-- thechendaddy
"

durant is a top 5 player, and he'll probably be the best in a year or 2 with wade being 30+, kobe being 32+ and he is definitely better than LBJ.i hope durant wins many nba titles not only because he is a great athlete but he is also very humble and down to earth. i hope to see him in the finals ina year or 2, as Drose vs Durant will be epic

"

-- gocubsbears